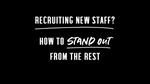 When hiring new staff, we all have the list of traits we want - motivated, great stock sense, shows initiative, team player, experienced. But have you thought about what that new staff member wants in a boss? Or how your farm is going to stand out and be attractive to that top applicant?
Right from the outset we use our farm logo in the ad and job description to make our job stand out and to start building our team culture. Giving the applicants an understanding of what it would be like to work in our team is important to us as it needs to be the right fit for both them and us.
When hiring new staff we have always tried to give the potential candidate as much information about us and our farm as possible – it can be a big shift for a family so they need to know it will be a good fit for them. Our on-farm policies when hiring new staff include:
Send the candidate a CV about us. When we make a short list of applicants we send them a CV about us and the farm, this allows them to see what our experience is, how long we've been on the farm, and what our interests and hobbies are outside of farming.
Give the potential staff member an employee reference. When we are looking at offering the role to the potential staff member we give them written references from past employees and they have the opportunity to call them if they'd like.
On farm orientation when new staff start. When new staff begin on our farm we always dedicate the first week to take them around the farm and show them what and how we do things. We have based this off the DairyNZ HR toolkit and tailored it for our farm.
We believe using visual communication can help build confidence in staff while they settle in on farm- as we know it can take a few months to feel comfortable in a new role.  Our custom whiteboard with farm map is a central point in the milk room where we have weekly meetings and daily catch ups – this can also be a reference point for those new staff members to come back to through out the day if needed.
Here are the links to the DairyNZ tools that we have found useful:
Before your Employee Starts Checklist