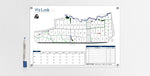 Our client wanted a multi-functional whiteboard for the farm office, so we created a custom farm and included a feed plan and job list. 
By listening to Ben and Deborah and learning their systems, we were able to design a whiteboard that highlights health and safety concerns, streamlines farm operations and improves communication between management and staff.
Our client also ordered A3 pads of maps printed on 100 sheets of high-quality, tear-away paper; a useful resource to take out on the farm or hand out to visitors.