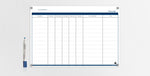 A premier name in the Cambridge equine scene, Woburn Farm specialises in agistment, breeding, foaling and preparing horses for sale. 
Vizlink worked with owners Adrian and Hannah to implement a new visual communication system.  We designed whiteboards to manage and streamline operations across their 84 acre farm.
The team can record information of incoming horses, manage breeding and monitor the health of animals undergoing treatment, using their Arrivals, Breeding and Treatment whiteboards.
By using multiple boards, each intended for certain areas of the farm and all designed with simple easy-to-use graphics, the visual system crafted for Woburn Farm has improved productivity and communication between management and staff.